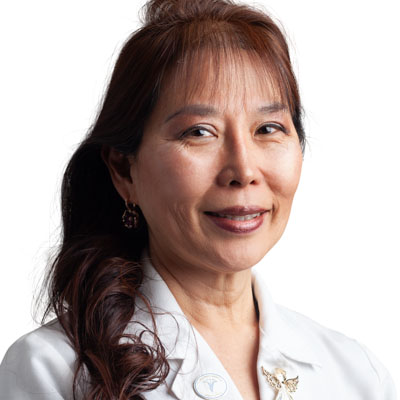 Lucy Miller, M.D.
Location: La Mesa
Address: 8851 Center Dr Suite 505, La Mesa, CA 91942
Phone: 619-461-3880
Fax: 619-461-3895
Dr. Miller moved from San Francisco to San Diego in 1996 to attend a Nephrology Fellowship at UCSD. She loved this beautiful city and its community that she was honored to be able to join Balboa Nephrology Medical Group.
Dr. Miller has a very dynamic and eclectic practice, where she shares her time at clinic work, hospitals and directorship at Dialysis Unit where she promotes leadership and betterment of patients and staff.
She has a very diverse background, growing up in Sao Paulo, Brazil, with a Japanese heritage, coming to the USA to study and establishing a family with two beautiful boys. She speaks English, Spanish, Portuguese, and Japanese and now she is truly interested in learning Arabic.
As a child, she enjoyed observing the animals in the wild and caring for them, and the curiosity of treasures of the world. She carries the same enthusiasm to date as climbing to the base camp of Mount Everest and learning about the less fortunate or Scuba in the Red Sea and sharing space with this troubled area.