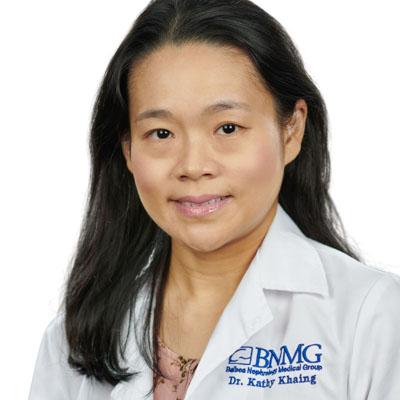 Kathy Khaing, M.D.
Location: Chula Vista
Address: 340 4th Ave #4, Chula Vista, CA 91910
Phone: 619-427-1144
Fax: 619-427-1185
Dr. Khaing joined Balboa Nephrology Medical Group in 2018. She practices in the Chula Vista area; specializing in kidney diseases which include hemodialysis and Peritoneal dialysis patients at both Fresenius and DaVita Dialysis units.
Dr. Khaing attended medical school at University of Medicine 1 Yangon where she obtained her Medicine degree in 2006.She completed her residency training at the Saint Peter's University Hospital and Nephrology fellowship training at the Olive View UCLA medical center.
In her spare time, she enjoys swimming, hiking and cooking and playing with her 2 kids.