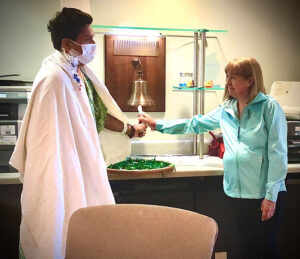 All of us face challenges in life and many have to constantly develop new methods to cope with and overcome challenges that are thrown our way.  Being a Mother and having a child with kidney disease can bring a different level of distress.
Balboa Nephrology patient, David Miller was experiencing an unexpected kidney journey and found life-saving help from his mother, Theresa who donated her kidney to her only child.  "My mom's decision to give me her kidney was a selfless act that will be a part of me forever. She decided to give me her kidney because she thought it was her responsibility, no matter what I said. She kept insisting that she brought me into this world "broken" and if she had the opportunity to donate hers to me it would only be fair."
Happy Mother's Day to all mothers!  We're sending our love and thanks to every mom and to everyone who nurtures, encourages and cares for others – for being so many things to so many, and for your unconditional love and support.
David and his mom,Theresa ring the transplant bell, a tradition that celebrates the successful transplant and honors the organ donor, giving the gift of life. (Sharp HealthCare)